About Us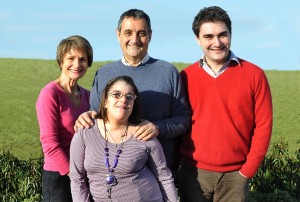 Welcome to our World! 
Forty-odd years ago, starting a care business did not figure in our family's future.  Then our daughter, Laura, was born and we were told
"she's mentally handicapped, she might live, or might not – we don't really know and, by the way, good luck"
Over the years, fighting to get the best for Laura has given us an insight into the world of care.  Laura is the inspiration for our specialist residential provision, Home From Home Care, which we created with our son, Hugo, and she is testament to how anyone can positively affect the lives of others.
Support for Parents
When it came to considering Laura's future after her time at residential college aged 25, we were shocked at the total lack of support and information available.  We felt we were on our own and had limited information on which to make an informed choice – we simply wanted to  ensure we had considered all the options around what would be best for Laura.   Whilst the internet has enabled parent and support groups to expand and provide easier access to information, we are often surprised by how little information is available to parents or how difficult it is to find.
Our aim for this website is to share our experiences and to help families on the journey through transition and maybe beyond.
We've only just launched this site but our plans are big.  Please do make comments, get in touch, share your experiences, as together we can build the power of parents to postively shape the destiny of our vulnerable children.
Paul and Ann de Savary