Autism Central 2013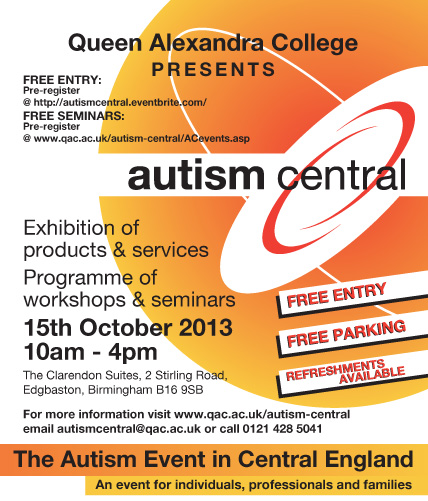 We are delighted to inform you that not only will Home From Home Care be holding a stand at the Autism Central event on 15th October organised by Queen Alexandra College in Birmingham, but Paul de Savary also has a confirmed speaking slot at the event to answer any of your questions and to give you a little more insight into his own experiences of being a parent of a child with special needs. Paul will discuss issues he faced in terms of transition, funding and options, so it is a presentation not to miss out on.
We always enjoy going to Autism Central as it is a great event with lots of invaluable information and advice available from a variety of professionals and families. Like we frequently say, inform yourselves as much as possible on what options (current and future) are available out there for your child and for you. Unless you go out and look for the information, you will not know about it.
For more information on the event, please go to http://www.qac.ac.uk/exhibitioninfo/visitor-info-autism/22.htm
Look forward to seeing you there!