Autism Central 2014
We are delighted to say that we will be holding a stand at the upcoming Autism Central event on Tuesday 14th October.
There will be lots of services, support and information available at this event, so please do come along and find out what services are available to you.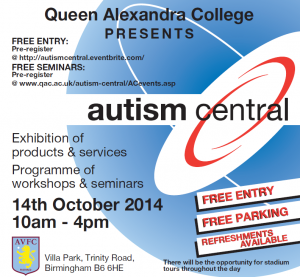 Paul will be speaking!
Paul will also be giving his presentation on "Transition into Adult Services from a Parent Perspective".
This session run by Paul is extremely beneficial for any parent with a child with learning disabilities, at whatever stage in life they may be. It is never too early to start thinking about the future and the processes you will have to go through when your child is no longer considered a child by the Local Authorities. On the day your son/daughter hits 18, they lose all child services that you may be accessing for them, i.e. respite, therapies, additional support. (For more information on this, please see our blog post "Stark Reality at 18". You need to be prepared for when this happens, which can take time to find the right services that you will need. Don't be lulled into a false sense of security; be informed, be proactive – get involved.
For more information on Autism Central, please click here
We look forward to seeing you there!