Autism Show Series
Want to know more about Autism? Looking for specialist equipment/therapies/technologies for your son/daughter? Need support and advice?
The Autism Show

is the place where you can find all this and much more!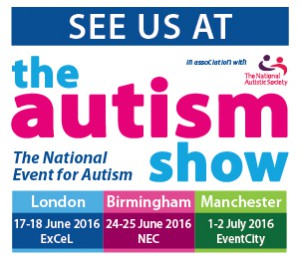 There are 3 shows being held this year; London, Birmingham and Manchester. With exhibition stands showcasing everything from technologies, equipment, holidays & therapies, to topical seminars & workshops taking place on 3 different stages across each 2 day show. These shows are all about information, information, information! Being informed as a parent is crucial, so do try and take the time to visit one of these shows to find out as much as you can.
For more information about the show, go to their website here.
We will be holding a stand at every show this year. Please do come and see us to talk about future options for your son/daughter, or even if you just want to chat with parents who have been through the social care mill.
Autism Show London – Stand A15
Autism Show Birmingham – A12
Autism Show Manchester – C3
Come and hear our presentation on Transition! Check the guide for details.
There will also be some very interesting workshops and presentations for you to sit in on throughout the course of the 2 days which you must take advantage of. We will be making a presentation on transition – sharing our perspective as parents on the Saturday of all 3 shows on Theatre Hub 2;
Transition into Adult Services – a parent's perspective
Saturday – Theatre Hub 2
This is one of our favourite exhibitions of the year, organised by parents themselves who were tired of having to look in different sources for information they needed for their children. The show includes everything you may need to know in one arena, so worth a visit!
There is truly so much information available at the show for people with learning disabilities, their parents/carers, and also professionals – so we really do recommend that you take the opportunity to come and see it for yourself.