Books Beyond Words
Baroness Sheila Hollins is a professor of the psychiatry of learning disability at St George's, University of London, and has a learning-disabled child. Sheila designed and produced a series of picture books for carers, parents and teachers, after realising that many people have better visual than verbal literacy – not just people with intellectual disabilities.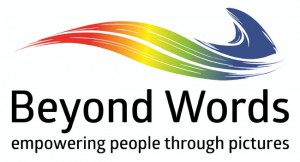 Books Beyond Words now includes some 30 titles covering such diverse subjects as epilepsy, abuse, bereavement, depression, making friends, going into hospital, falling in love. These are great aids of communication with children and adults with learning disabilities.
For more information on Books Beyond Words, please go to their website by clicking here.
In an interview with the Mail on Sunday, Sheila discussed how her initial distress over her son eventually developed into the inspiration to become one of the leading psychiatrists in the country and create Books Beyond Words.
"Our son has brought us a great deal of joy," says Sheila. "Sometimes having vulnerable people in our midst brings out the best in other people". For the full article, please click here.