CQC changes
From 1st April, new regulations (The Fundamental Standards) will come into effect which CQC will inspect against. These regulations set the standards below which care must not fall, and which providers must demonstrate how they comply with as part of their registration.
The standards sit alongside the five questions/topics which CQC inspect against and rate. Are services;
SAFE? ☑    CARING? ☑    EFFECTIVE? ☑     RESPONSIVE TO PEOPLE'S NEEDS? ☑    WELL-LED? ☑
CQC Operating Model & Ratings
The diagram below is an overview of CQC overall operating model. It covers all the steps in the process, including;
Registering those that apply to CQC to provide services
Intelligent use of fdata, evidence and information to monitor services When we refer evidence, we mean all the supporting information we use to inform our judgements, whether through our Intelligent Monitoring, information provided by provders, or information gathered during an inspection
Using feedback from people who use services and the public to inform our judgements about services
Inspections carried out by experts
Information for the publib on our judgements about care quality, including a rating to help people choose services
The action we take to require improvements and, where necessary, the action we take to make sure those responsible for poor care are held accountable for it.
CQC are introducing ratings as an important element of their new approach to inspection and regulation. The ratings will always be based on what is found at inspection, which is also informed by what people tell CQC, Intelligent Monitoring data, local information from the provider, what people tell CQC and other local sources. CQC will award the ratings on a four-point scale: Outstanding, Good, Requires Improvement or Inadequate.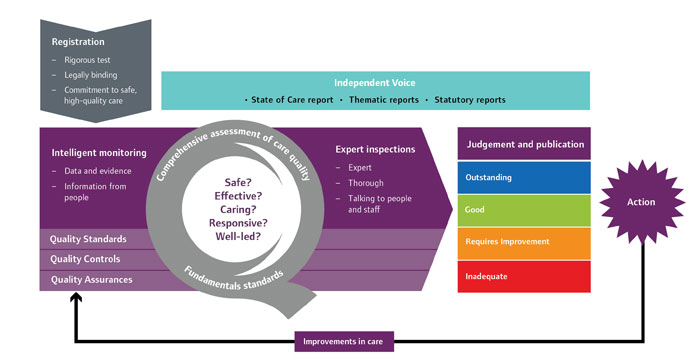 CQC will have more power from 1st April 2015, and this in turn means it is more information that providers comply with the regulations. There is much more emphasis on the rights and empowerment of each person we support. A good example of this is Regulation 11 "need for consent" i.e. if a provider does not comply with this regulation CQC can go straight to prosecution.
Regulation 11
The intention of this regulation is to make sure that all people using the service, and those lawfully acting on their behalf, have given consent before any care or treatment is provided. The provider must make sure that they obtain the consent lawfully and that the person who obtains the consent has the necessary knowledge and understanding of the care and/or treatment that they are asking consent for.
Although many of the topics in the regulations are the same as before i.e. welfare, infection control, safe guarding etc. there are small additions which emphasise the empowerment and rights of people. An example of this is Regulation 9 (3), (d), where people must be enabled and supported to be involved in decision making to "the maximum extent possible". In other words – CQC are making sure rights are upheld and no-one is excluded or no-one who isn't authorised is making decisions.
Nearly every regulation refers to the "relevant persons" – as to who can make decisions. The definition of this is in the regulations – is the service user, or where they don't have capacity is the person lawfully authorised to make decisions on their behalf. It is important to note that this is someone with power of attorney, or a "Deputy" appointed by the Court of Protection – it is not next of kin/family.
For more guidance and information, please visit the CQC website.