Planning a summer holiday?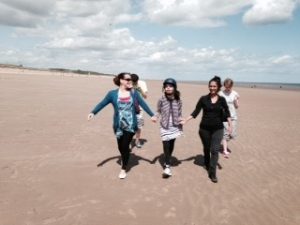 With summer on its way, it's often the time to start organising a holiday. However, this can prove a more challenging trip to plan if a member of your family has complex learning disabilities.
We have gathered some information on organisations who specialise in destinations to meet the needs of the whole family, with a range of fun accessible activities for groups and individuals to enjoy.
The Calvert Trust (www.calvert-trust.org.uk/stay)
The Calvert Trust offer a wide range of accessible activities in three different locations in the UK including, Elinor, Keswick and Exmoor. The centres were inspired by John Fryer- Spedding, whose vision was to enable people with disabilities to benefit from outdoor activities in the countryside.
Their warm ethos of 'It's what you can do that counts' as well as over 40 years' experience ensures all visitors have fun, make new friends and achieve things they never thought they would.
The centres welcome over 3,000 people every year, from groups to families, to individuals on a residential and day visit basis and uniquely offers 24-hour care provision if required.
For more information please visit their website here or contact:
Exmoor: 01598 763221
Kielder: 01434 250232
Eilnor: 017687 72255
The Thomas Centre www.thethomascentre.co.uk/
If you are a parent or carer of a child with Autism, Asperger's, ADHD or other forms of complex needs, The Thomas Centre aims to provide holidays that meets the needs of the whole family, not just the needs of the family member with special needs.
The Thomas Centre was set up by parents who know how it feels to not be able to go on holiday as a family, or to the pub for a drink, or the pool for a swim like 'normal' people. Being parents of a child with complex needs, the reality is that it is often very difficult to have a 'normal life'.
The Thomas Centre was a Grand Design Project, a luxury holiday park for families just like theirs. A place where Jan (the boss!) discusses with you the needs of your family before you book. A place where there is a great level of personal awareness and experience of the concerns that you may have. They do their best to make sure that this is the right place for you, and that this is a holiday destination you can look forward to.
For more information please visit their website here or contact:
Tel: 01507 363 463
Email: enquiries@thethomascentre.co.uk
Riding for the Disabled (http://www.rda.org.uk/taking-part/holidays/)
Every year RDA offer holidays across the country between April and September for people with disabilities who enjoy horse riding.
The holidays offer the opportunity to look after a pony for the week or spend time riding and driving in combination with visits to interesting places or adventure days. There are a variety of activities available on their holidays such as showjumping, carriage driving, side-saddle, hacking and grade 4 to gold proficiency tests.
For more information visit their website or contact
Tel 01926 405972
Email: ldronfield@rda.org.uk
Go Provence (http://www.goprovence.co.uk/)
The idea for Go Provence was sparked by conversations the founder had with his pupils in a learning disability specialist school. When saying goodbye to them before moving to southern France he said that they should come and visit him. Ian recognised the difficulty that people with learning disabilities have in travelling and wanted to change things.
Go Provence aims to provide non-patronising holidays to people who need support on their holiday.  Holidays can mix outdoor adventure, culture, photography, cooking, excursions and relaxation, for adults and children with learning disabilities and autism. The holidays are all-inclusive, and their staff can even accompany you from the UK. The support staff have training and experience to make the holiday a success and allow everyone to get involved.
For more information please visit their website or contact:
Tel 00 33 (0) 973 213118
Email: ian@goprovence.co.uk
Safehands Holidays (http://www.safehandsholidays.co.uk/index.html)
Safehands Holidays own CQC registered hotels in Blackpool and Llandudno, allowing them to provide a unique holiday experience. Specialist in-house care teams are on hand, capable of offering a complete package of care – ranging from personal care through to social and leisure support.
The rooms are modern and accessible and close to the attractions of each town. Blackpool is particularly noted for its ease of accessibility, with an accessible tram service operating opposite the hotel. Lancashire and the Lake District can be reached through their accessible, supported trips. Accessible equipment is also available to those staying and up to 24-hour care can be provided.
For more information please visit their website or contact:
Tel 0333 999 8888
sales@safehandsholidays.co.uk
 Please note this article is provided for information only and we do not take responsibility for any holidays or bookings.